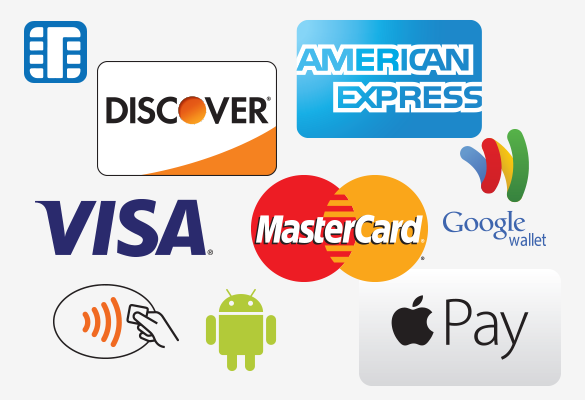 Accept All Payment Types!
​
Countertop and Wireless terminals with free shipping and setup.

Point of Sale tablet & register.

Mobile Point of Sale solution.

Virtual Terminal for secure web-based "card not present" payments.

Marketing Platform to engage with customers for loyalty programs.

Gift Card program available.

Cash Advance program available.

We offer a variety of payment solutions to meet your business needs.
Processing Equipment and Marketing Solutions:
Never miss a sale with this FREE countertop terminal.

Accepts chip cards, swipe cards, NFC, apple pay, and google wallet.

No liability for fraudulent credit cards when you accept chip cards.

The Ingenico ICT220 has everything needed to process payments,
including a pin pad, keypad, and receipt printer.

It's compact design is easy to use, and takes up minimal counter space.

Easily connects to a telephone landline or internet modem.
The FREE VX520 enables businesses to accept all payment types.

Accepts chip cards, swipe cards, NFC, apple pay, and google wallet.

No liability for fraudulent credit cards when you accept chip cards.

Fast processing speeds due to a powerful processor and

expandable memory.

Receipt printer with a large payment roll.

Ability to utilize value-added services such as gift and loyalty cards.

It's slim design takes up minimal counter space.

Easily connects to a telephone landline or internet modem.
Verifone VX680 Wireless Terminal
Get a full set of features on the road with this robust mobile payment terminal. 

Includes magstripe reader, smart (EMV chip) card reader and NFC reader.

EMV tip adjust capability.

Integrated PIN pad and thermal receipt printer.

Fast processor with abundant memory.

Large color/touch display supports signature capture.

Latest PCI 2.0 security protections.
PayAnywhere Storefront POS
A FREE 10″ tablet and stand.

Built-in reader to accept magstripe, EMV chip and NFC payments.

 Next-day funding.

Detailed in-app and online reporting that tells you what, where, and when your customers are purchasing.

Inventory management

Virtual terminal and online payments.

Cash drawer and printer connectivity.

The ability to assign employee roles and permission levels.

Easy inventory management with stock tracking and the ability to add multiple prices or modifier.

Live customer and technical support by phone, email, and chat.
PayAnywhere 2-in-1 Bluetooth Credit Card Reader
Key Features:
Accepts magstripe and EMV chip cards

Bluetooth-enabled

Free virtual terminal for phone, mail and online payments

Inventory tracking

Employee management

Detailed reporting

Payment device size: 4.24" high X 5.59" wide X 0.92" thick
PayAnywhere 3-in-1 Bluetooth Credit Card Reader
Add the ability to accept NFC payments like Apple Pay, as well as swipe and chip cards, to your mobile device.
Online Payments Virtual Terminal
Secure Solutions for "Card Not Present" Payments.
Online Payments is a secure web-based solution that enables you to accept and manage customer payments when an actual payment card is not present.

Virtual Terminal:
Authorize, process, and manage mail or phone credit card payments from any computer.

List of Features:
Take Payments Online: Accept credit cards, debit cards and ACH payments online.

Get Paid Quickly: Easily deposit online, keyed and automatic payments into your bank accounts.

Manage Transactions: Issue credits, void transactions and view your list of payments.

Process mail or phone orders through a browser-based interface.

Generate receipts and send them via email for customer convenience.

Issue refunds to a customer's credit card or ACH account.

Store customer credit card or ACH account information.
Recurring Billing
Bill customers, charge cards, and process payments securely on a scheduled automatic basis through an automated system.
This feature is particularly useful for membership dues, subscriptions, or any arrangement where you and your customers have agreed to be charged the same amount to the same card on a regular basis.

Hosted Pay Page
Sell your products online quickly and securely through a hosted pay page.
Easy to set up, hosted payment pages simplify the online checkout process from your website and protect customers payment data. Once you set up your payment page, you can link to it through Pay Now buttons or text on your website. Your online visitors can use the link to securely purchase items, pay invoices or make donations.

Ecommerce
Accept payments online from your business website shopping cart.
If you are setting up a full ecommerce website, or already have one, you can easily integrate our payment processing with your online shopping cart to provide a uniform customer experience. What's more, our advanced payment gateway integration ensures PCI compliant security.

Compatible with Most Shopping Carts
A wide variety of shopping carts can be integrated with our payment gateway, which means you can get setup to process credit card and ACH payments quickly.

Data Security
Accepting payments online comes with risk, but our solutions keep your customers' data safe and enable you to identify suspicious transactions.

PCI Compliant
Secure source keys are used to communicate with the payments gateway, and all processed and stored card data is PCI secure.

Transport Layer Security
As applications communicate with each other, layered security keeps data private.
Fraud Control Stack: Our fraud module includes multiple layers to eliminate fraudulent transactions and deliver credit card security.
PCI compliance and securi

ty.
Dollar Volume:
 Rewards (or points) are earned based on dollars spent.
Frequency:
 Rewards (points) are earned based on number of items purchased and/or times visited.
Club:
 Rewards are earned based on purchasing larger quantities upfront.
Discount/Rebate:
 In this program, your Discount can be a dollar amount off a current purchase or a Rebate where the discount dollar amount can be used on a future purchase.
Percentage:
 In this program, your discount would be a percentage off an immediate or future purchase amount.
Acquire New Customers

Customers given gift cards typically spend more than the total amount on the card. Plus, they often will keep coming back even after they used up the full card balance, thereby increasing your loyal customer base.
Simple to Set Up and Customize

Our gift card program provides a number of templates that can easily be customized for your business. You also fully customize the cards to reinforce your unique branding.
Big Gains, Low Risk

Printing gift cards is very affordable. There's no risk to you because once the cards are purchased by customers and activated by you, funds are quickly deposited into your account. Later, you can redeem gift card payments as regular transactions. Gift cards also provide a way to simplify management of store credits, and they can help combat fraud by keeping your cash in your store.
Cash Advance to Grow Your Business
A cash advance for your business provides the money it needs to take full advantage of growth opportunities without having to negotiate with a bank, or worry about long term credit card interest. 
You qualify for a cash advance by leveraging your future credit card receivables.
The advance will be paid back via a small, agreed-upon percentage of daily credit card transactions.


All you have to do is keep doing business as usual.
Key Features:
No personal collateral required

No traditional restrictions

No fixed payment schedule

Same-day pre-approval process

Funding as fast as 24 hours after approval

No bank fees – just the cash your business needs.
PCI Compliance

Providing credit card security is critical to protect your customers and your business. Our payment solutions meet modern Payment Card Industry (PCI) data security standards, and we can help ensure you follow all the proper security measures as a proactive organization, without a major investment.
EMV Liability Shift and Mandate

As of October 1, 2015, banks and processing networks changed the way they handle certain types of credit card fraud. If your business doesn't use an EMV processing device when your customer presents an EMV "chip" card, you could be held liable for certain types of fraudulent transactions.
Reasons Behind the Liability Shift

Using EMV "chips" is much more secure than using magnetic stripes on credit cards. Magnetic stripe technology dates back to the 1960s, and is easy to counterfeit. Worldwide, many countries that already adopted chip card technology have seen dramatic drops in credit card fraud. Since the U.S. has been slow to embrace the technology, the industry instituted the liability shift mandate to accelerate adoption.
Get EMV Compliance and More for FREE
To protect your business from charges related to the EMV liability shift, you need a payment solution that accepts EMV chip cards.
We offer FREE EMV-compliant credit card terminals.While other processors could charge hundreds of dollars for modern credit card readers, we understand that you need to keep costs under control.
That's why we continue to offer the latest credit card terminals for free, work to provide the lowest credit card processing rates, and strive to give the best possible customer service.